64-72 Chevy/GMC Truck/Blazer 4WD | K10/K20
SKU:

LSXE.K10.FS.6472.4WD

UPC:

Condition:

New

Availability:

In Stock

Gift wrapping:

Options available
Description
Hello LSx Guys! Finally! A way to get your K10 or K20 LS swapped AND on the road!
This swap kit is for 1964-1972 GM ½ ton 4 wheel drive Trucks, Blazers & Suburbans. Unlike most LS swap parts on the market this kit replaces the frame brackets in addition to the mounts so you'll have clean mounting of your engine and not a mix of parts that are weak and don't work together properly. The frame brackets bolt into existing holes in the frame and locates the engine to give you the most options for front accessories drives. Unlike others, our kit positions the engine so there is no steering interference and maintains the proper drive-line angle for smooth highway cruising. It provides clearance for the factory AC box, power brake booster, and aftermarket suspension components. These combined parts offer an easy, strong, and clean installation of your LS engine. If you are considering upgrading to newer transmissions (4L60E/4L80E), our kit will work with the NP241, NP243 and NP246 transfer cases.
This kit includes the following:
4WD Motor Mounts, Headers, Oil Pan Kit
Mount and Crossmember Kit
Includes motor mounts, frame brackets, and hardware. Manufactured from the highest grade American made steel. They're laser cut, precision bent, powder coated and feature polyurethane bushings. Comes with a lifetime free replacement warranty on the bushings.
LH8 Oil Pan kit
The oil pan our kit was designed around. Comes standard or machined for the oil bypass valve for use with displacement on demand or variable valve timing. Includes new full length windage tray, pickup tube, hardware, gasket, dipstick, and our pickup tube girdle.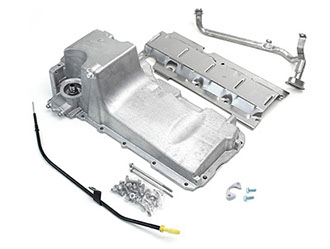 Oil Pump Pickup Tube Girdle
Original GM oil pickup tubes are fastened to the pump with only one bolt with a tear drop shaped mating flange on the tube. There is another threaded bolt hole on the other side that is not used. Our Girdle is cnc machined aluminum and goes over the original mating flange, wraps around the tube, and fastens using both bolt holes. Use with a little Locktight and it's cheap insurance against an engine meltdown. It comes with two longer bolt for install.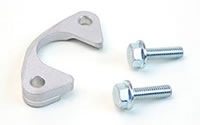 View All
Close