LS Serpentine Kit w/AC | Wide Kit
SKU:

LSXE.MP20HP060.0923

UPC:

Availability:

Ships within 7-10 business days

Gift wrapping:

Options available
Description
Will you just look at it???!!?? Beautiful!!
And when you pop your hood, you can feel proud to show your engine off!
This Chevy LS air conditioning serpentine kits offer an exciting new look when mounting an accessory drive in your vehicle. A separate bracket allows for the option of power steering, while two separate idlers guarantee the ultimate in belt-to-pulley contact area for"no-slip" operation. The serpentine kits are completely CNC-machined from solid billet 6061-T6 aluminum. This translates into a spectacular new-machine finish with a perfect fit and extra strength. The pulleys and brackets are maintenance-free and are powdercoated for extra durability.

Includes the following:
* Aluminum water pump
* 105 amp polished alternator
* Alternator pulley with fan and nose cover
* Polished Sanden air conditioning compressor
* Air conditioning nose cover
* Water pump pulley with nose cover
* Alternator bracket
* Air conditioning bracket
* Polished spring-loaded belt tensioner
* Crank pulley (required adapter sold separately)
* Mounting hardware
* Polished Type 2 remote power steering pump
* Power steering pulley with nose cover
* Bracket with idler
* Mounting hardware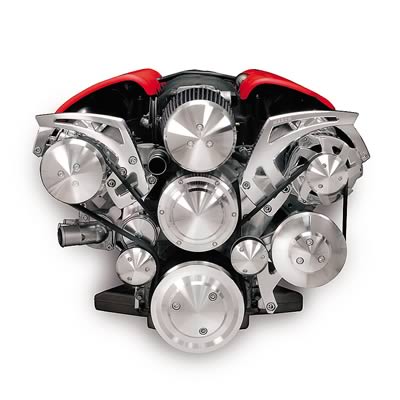 View All
Close
Warranty Information
Wide kit. Works with mechanical or electric throttle bodies. This kit is not designed to replace the OEM pulleys in a Corvette, rather it is designed for installation in Street Rods, Muscle Cars and some engine swap applications. Use additional balancer hub for mounting crank pulley. Will not work with VVT engines. 78.00 in. belt length.
View All
Close