LS Twin Turbo Kit
SKU:

LSXE.TUR15194.0913

UPC:

Availability:

Ships within 2 weeks of ordering

Gift wrapping:

Options available
Description
Made for the 2010-2012 Camaro SS. You can also use this to customize your vehicle with a 6.2L/376 CI Motor.
Free Shipping in the CONUS.
Turbocharger Style: T76
Compressor Housing Material:Aluminum
Compressor Housing Finish:Natural
Turbine Housing Material:Cast iron
Turbine Housing Finish:Natural
Compressor Wheel Construction:Cast aluminum
Turbocharger Bearing Style:Ball bearing
Turbocharger Quantity:Single
Exhaust Manifold Included:No
Maximum Boost Pressure (psi):8 psi
Intercooler Included:Yes
Wastegate Included:Yes
Wastegate Type:External
Turbocharger Downpipe Included:Yes
Turbocharger Downpipe Material:Stainless steel
Turbocharger Downpipe Finish:Natural
Intercooler Piping Color:Silver
Filter Included:No
Fuel Injectors Included:No
Computer Chip/Programmer Included:No
Gaskets Included:Yes
Hardware Included:Yes
Quantity:Sold as a kit.
Turbonetics Turbo systems are for you, whether you have a four cylinder sport compact or a V-8 muscle car, these systems include everything you need from fuel and ignition to piping and fittings for complete bolt-on turbo performance. Turbonetics offers complete turbo systems - from air entry to exhausting to the catalyst. These turbo systems are a true O.E. bolt-on that does not require "hacking" in order to install. Pieces mount to existing factory positions and maintain all optional equipment including air conditioning.
With these kits you no longer have to worry about 4 - 6 weeks of downtime to get a kit fabricated because Turbonetics kits can be installed within 8 - 12 hours. In addition, you don't have to worry about inexperienced tuners experimenting with your car, because the fuel and ignition management systems come pre-programmed to maintain a consistent air/fuel ratio and timing control under all conditions.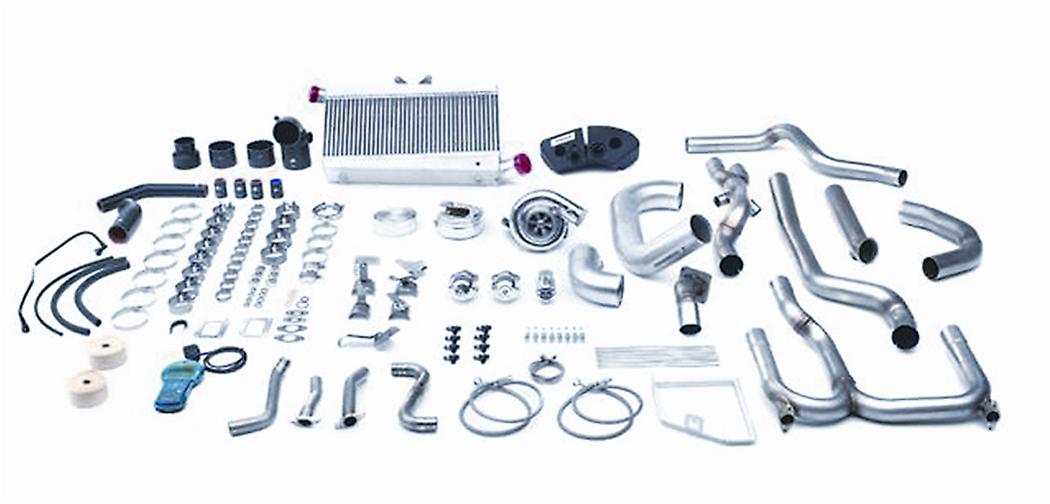 View All
Close
Warranty Information
Notes:Fits models with manual transmission only. Includes coolant and windshield washer fluid reservoirs.Estimating Ship Date for INTERNATIONAL: Change 1 Click here to add TNT-15194 to your shopping cart. +Compare Turbocharger System, T76, Two Evolution 35mm Wastegates, Spearco Intercooler, Chevy, Manual, Kit
View All
Close